The North West is leading the way in the UK's housing construction industry, thanks to increasing property demand and ambitious government housing initiatives.
At the end of 2018, the Office of National Statistics reported a rise in the construction industry across the UK, compared to the previous year's output. While these statistics showed growth across the industry as a whole, the rise in construction of new housing was the most significant, boasting an increase of 5.6% both in the past three months and year-on-year.
This housing boom has seen housebuilders such as Welsh Redrow enjoy record pre-tax profits for the fifth year in a row, with profits up 21% to £380m. The North-West region, however, is leading the way; the value of new housing construction work increased by £386 million this quarter compared to the same quarter last year.
This is thought to be linked to the growing need of affordable housing – and London's chronic shortage thereof. Last year, Homes England was launched by the government with the target of delivering an additional 300,000 homes per year throughout the UK by the mid-2020s, by bringing together existing expertise with supplementary land purchasing powers and innovation. With construction of house-build still buoyant and increasing both month-on-month and year-on-year, the fresh onus by the government has seen a 15% increase in productivity in the North-West in 2018. This steady growth is evidence of the Northern Powerhouse's status as a prospering region and a hotspot for both homeowners and investors.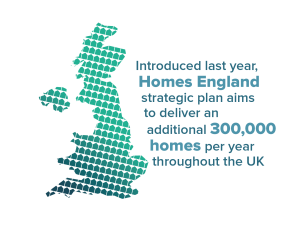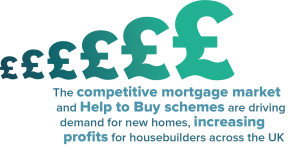 While a lot of growth has come from the private market, with Brexit on the horizon small ripples are starting to be felt; all high-specification open or private market builders could potentially see a dip in sales if the economy suffers. A large factor outside of the private market in the North-West will be Theresa May's decision to finally lift the borrowing cap on local councils and associations, which has stymied the build of 'affordable' houses throughout the region since 2012. These new spending powers will once again allow local governments to concentrate on affordable units (by way of rental, private rental schemes or shared ownership) that larger housebuilders cannot or will not offer. This, coupled with the fact there is still inherently a shortage of homes in the North West, should enable the contractor and affordable markets to remain buoyant despite Brexit uncertainties. With the North-West affordable homes number still 70% off target, there is still a lot of work there to hit five- year targets.
John Kirkham, who recently joined Urban Connect as a Principal Consultant, specialising in house build and residential, is tasked with establishing this rapidly expanding side of the business, in the North West and eventually beyond.
Commenting on the current residential growth in his new role, John said:
"I joined Urban Connect as they're a dedicated construction agency. Its vision is for all our multi-discipline teams to share knowledge as common practice. I can already see that impacting on how we recruit for our clients, which I believe in turn gives us a better understanding of the market and how it links together. With the North West market particularly buoyant, it's a great time to capitalise on this by making key hires and building up a team in a solely construction-focused environment."
If you are a client, candidate or recruiter who works in the construction and residential sectors, please get in touch to find out how we can help you or your business.